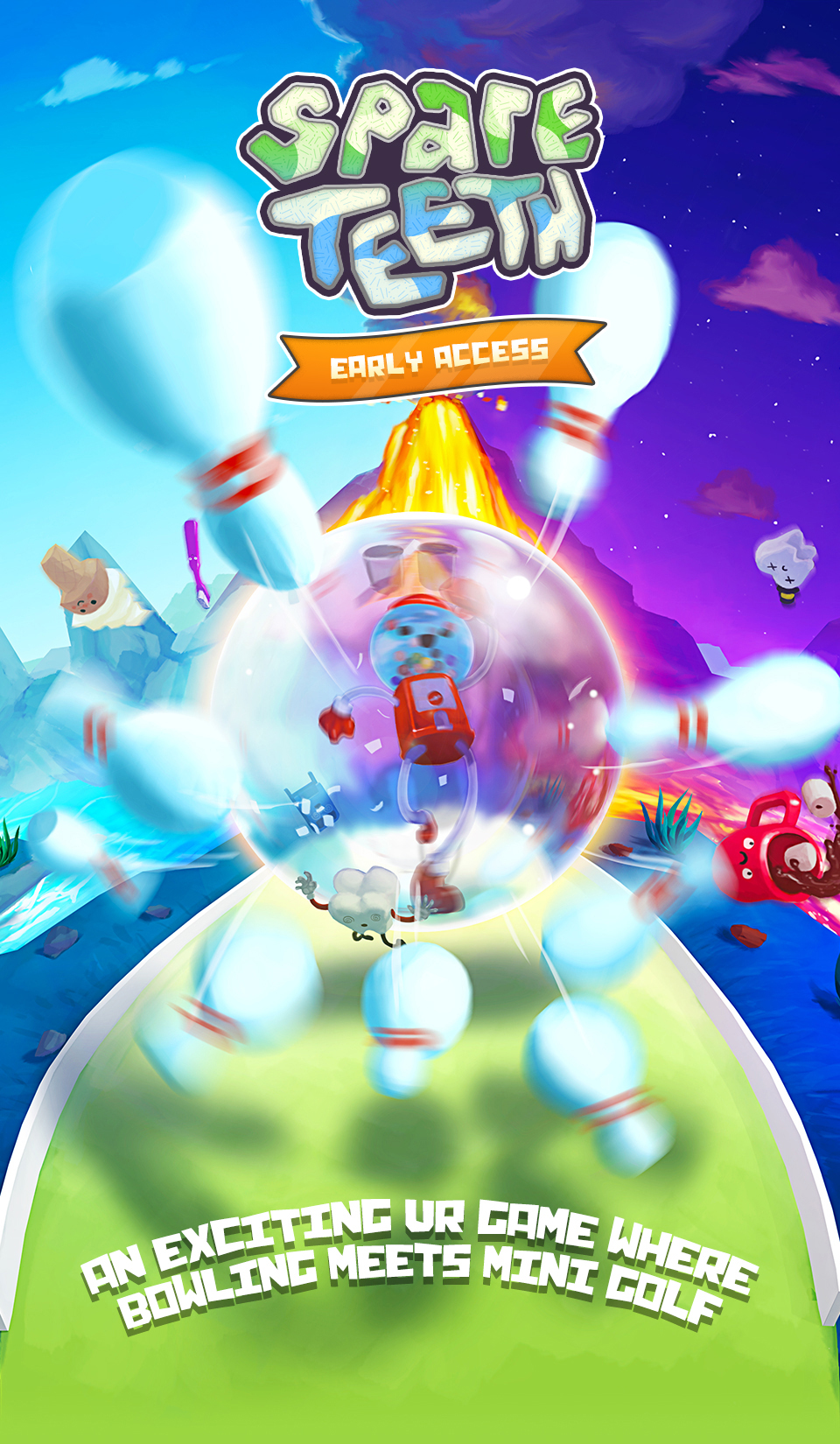 Spare Teeth VR
v0.2.0 Patch Notes - Steering Clear
---
Time for another big push of updates! We've reworked the scoring system, added audio and sound effects all over the place, added a new bowling ball ability, and much more!
Major Changes:
New bowling ball ability! You can now steer the ball while it's in motion by using the trackpad!

We found that a lot of levels were completely luck-based, so we came up with this feature to make it a bit more skill-based. It also eases the frustration on some of the more difficult levels.

When you throw a ball, the giant TV shows footage of a camera following directly behind the ball.

The first two holes don't have the TV, as the tracks are short enough for it not to be necessary.
It's easier to utilize the new steering ability whilst watching the TV footage. You'll see what we mean.

New starting level that ensures player is standing in the correct spot at the start of game.
New bonus level at end of course. We won't spoil it here.
Each stage has ways to increase their score multiplier. It now requires much more strategy to get a crazy score.
Added the ability to Skip & Restart holes via the pause menu, along with the ability to return back to the arcade.
Completely reworked hole 7 so that it's not as frustratingly difficult (it's still probably the hardest one, however!)
Ragdoll physics! I'll say no more.
Minor Changes:
Added collision sounds to the environment and characters.
Added a whole bunch more bowling balls.
Greatly optimized the arcade levels.
Added particle effects
The plinkers/bumpers on hole 09 now animate and play a sound upon collision.

The sound even raises by a semitone with each collision! The level should be much more satisfying now

Score at end of level should no longer be confusing.

We've hidden away the par system, so it simply shows the total score for holes.
Bug Fixes:
You should no longer randomly get stuck at the end of levels.
Bowling balls no longer spill over to the next level.
Headset will now always fade completely to black when transitioning between levels.
Files
Spare Teeth VR v0.2.0
202 MB
Version 0.2.0
Oct 26, 2018